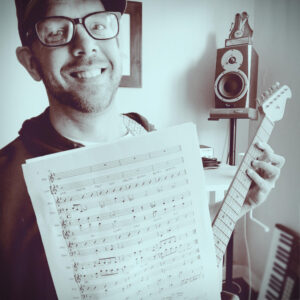 I've been teaching guitar since I was 18 years old and since I'm currently 137, that means I have an awful lot of experience doing this under my belt. I've always enjoyed working with students to get the most out their practice time no matter their skill level, experience, aims or stylistic goals. I'm just as comfortable teaching acoustic styles as I am electric and welcome the opportunity to help you get where you want to go- no matter where you're starting from.
If you want to improve your soloing and/or rhythm technique- I can help you get there! If you want to earn a "black belt" in music theory, we can definitely accomplish that. Want to learn how to solo on "Giant Steps" in all twelve keys? You're gonna have to work hard but we can get you there! Learning to read music? No problem! Also, I'm always super excited to help deep-dive on any sort of stylistic or genre specific learning requests. Common styles are Blues, Jazz, Metal, Classic Rock, R&B, Reggae, Funk, Alternative as well as Singer-Songwriter stuff… And of course if you'd just like to learn how to strum some chords and play songs… I'm all for it!
I don't teach from anyone else's method and everything is tailored to the student who's sitting in front of me. I'll listen to you describe what you'd like to achieve and get help with and then we'll craft a plan for getting you there. Everything is done in the spirit of it being fun- we'll work hard but with a positive outlook- the last thing I'd ever want is for you to feel intimidated by the material or by playing in front of me. The environment I set up is all about being chill and comfortable so you can ask questions and learn as efficiently and effectively as possible.
I teach in person at my studio in North Hollywood and am also available for online lessons. Send me an email or DM me on Instagram to connect and set something up. Super look forward to meeting you!